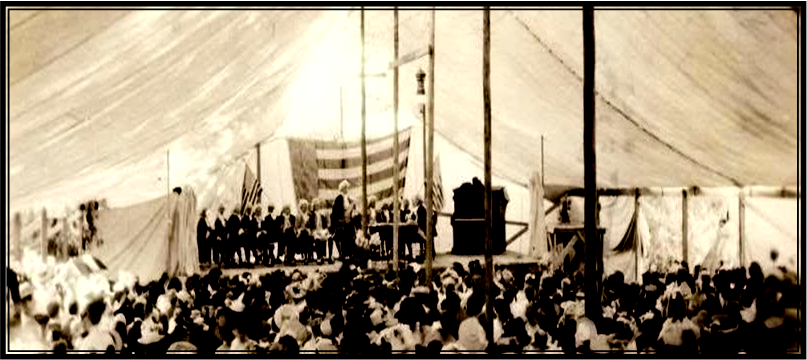 "Sometimes, you have to break something again for it to heal properly."

1918 changed everything. The dying of the gilded age left many lost and confused, straining to find a path to somewhere safe. With WW1 and the Spanish flu throwing the world into chaos, a tent show rolls into town and, with great fanfare, is erected before your eyes, and you become its audience. But The Astrolabe Theater Company is more than it seems and runs on chaos.
So we witness the world backstage where Broadway singer Margery, following the collapse of her marriage, has taken their twelve-year-old child, Lincoln. Feeling betrayed by her life, she fears letting her son follow his dreams of being an entertainer like his parents. Lincoln, while surrounded by those he admires, feels utterly alone, unheard, and unseen. When his father follows them to the tent, Lincoln must weigh his dreams against those he loves, complicated by the fact that his father, dangling promises of the life Lincoln always wanted, has a history of emotionally abusing him, leaving Lincoln to choose between two negatives.
Alex, the popcorn vendor boy who befriends him, understands because he, too, has been abused. He wants nothing more than to help Lincoln find a solution but finds it hard to accept hope for himself. Alex travels with the tent because it's the only safe place for him to be because Alex is transgender. The boys' friendship changes everything as they, themselves on the threshold of change, become part of the unfolding of the 900-year-old mystery of the Astrolabe Theater Company and discover the power that chaos truly holds.
The Tent of Stars was sewn to bring the lost and lonely together so they can realize that it is they who hold power to pick up the pieces and reassemble the shattered world mosaic. Now, the tent has returned. Step right up.
Trust Chaos
Act One:
After the pre-show featuring George playing Edison Cylinders through a big broadcast horn, the scrim rises on a big opening number called Time to make Time, during which the tent Is erected on stage, and Alex, who barks up the show, cries out, "We Are Astrolabe!"
Broadway singer Margery Foster arrives with her son Lincoln at a Midwest traveling tent show called Astrolabe to figure her life out after separating from her husband. Their son Lincoln wants to be like Mom and Dad, but Margery doesn't want him in showbiz and pushes him to be a lawyer like her father. The kid is miserable. Mom is miserable. Lincoln sings his "I Want "song called Theater Kid.
The show's musical comedian Charley hears him sing and hints to him of the Astrolabe's mystery and his quandary in the song I Don't Know What It Is. After Lincoln dances a soft shoe to Charley's song, they exit the tent, but Lincoln's shadow stays behind.
The house lights come up next. The popcorn vendor Alex comes through the audience selling little greasy brown paper popcorn bags for five cents with lots of fun banter and promising a diamond pin in one bag. (It's a dime with a hole drilled in it pierced with a safety pin) He exits "backtent" where he meets Lincoln, and the two begin their friendship.
Back out in front of the olio, we witness the turn of the century Vaudeville show, starting with the Dragoons marching in through the audience playing Sousa marches, which gives way to fast-paced comedy banter and a humorous tribute called Sousa is so USA. George, doing his Abe Lincoln Impersonation is up next but loses his pant button while reciting the Gettysburg address and blames Alex for the mishap. Lincoln hides Alex in a trunk, not knowing it is a prop for the next bit, a Musical Dancing Magic act By Madam Ravin, the only black cast member. As she launches into Magic in My Life, Lincoln and Alex get trapped on stage in the middle of it, and Lincoln ends up in the show.
Next, Margery sings a song with lyrics by the Victorian poet Christina Rossetti called The Hope Carol next, then Oliver, her estranged husband, shows up backstage, saying he has come to take Lincoln away from his mother and back to New York with him, and Lincoln, upset at his parents arguing, runs away. Alex sets off to find and bring him back, vowing to help his new friend. The estranged couple dances a tango called In The Dark but never touch.
Back on stage, the show continues with a rotating guest act, then concludes with The Obligatory Big Time Dance Bit, inspired by the Nicholas Brothers' incredible tap routines. Just at the end, as the curtain goes down, Alex shows up on the show wagon parked on a thrust of the stage. George confesses that he rigged his own pants drop to prod Alex to a path he needed to take, then leaves. Now alone, Alex sings, for the first time in the play, and dances before the moon with his version of In The Dark, referencing it as the place where he hides. The shadow returns on the face of the moon, and the stage goes dark, and the house lights come up, the moon now overlayed with the astrolabe.
Act Two:
Alex finds Lincoln singing a sad song called Broken, admitting to the emotional abuse from his father, during which Alex finds and joins him with his own verse of hope for his friend. Charley finds them both and hatches a plan to help Lincoln's Mom admit her son's talents and dreams. They sing The Deep End, where they plot to slip one of Lincoln's songs into the show for Margery to sing without knowing who wrote it. Lincoln would come on stage singing harmony with his mother, who would then realize she was singing his song along with him. This would break through her defenses and allow her to accept her son's dreams.
The next morning, as Heloise and Peter are dancing to a tune called Dance at Every Dawn, Charley presents Lincoln's song and plans to Heloise and Peter, who agree to try it and deliver the song to Margery, after which Charley admits his motivation and says that, inspired by the boys, he now realizes that what his life is missing is family, and will be leaving the show to go home to St. Joseph and settle down after that night's performance.
Margery is in the tent singing an extended reprise of In The Dark, during which she sees, then dances with, the shadow. She is interrupted by Roberta, who tells her that everyone eventually sees the shadow of regret, and understanding it is why she is here. Peter, Heloise, and Charley arrive to deliver the song and convince her she needs to sing it that night. Heloise dismisses the men, then confides with Margery in a song about her own past called Concerning Chaos. After they leave, the shadow separates from the canvas, revealing it to be the spirit of Astrolabe himself.
Each act that evening incorporates the boys in order for Margery to see the extent of her son's desires, starting with Madam Ravin. She educates Lincoln on what it's like to be a black Entertainer with her song Silly Me, which transforms into the big illusion-filled stage version called Clever Me, where the three of them end up dancing in a kickline that materializes out of thin air.
Next, they appear as Tom and Huck sand-dancing with George as Mark Twain to a banjo orchestra in a number called If Ever the Twain You Should Meet. Then, during yet another frantic costume change, pressure rises when, during an argument, Alex divulges that he is a transgender boy. Lincoln is introduced to a concept he has no reference for, and is forced to reexamine his own motives when Alex sings The Inside Me, then storms away. Heloise then calls for Lincoln on stage.
As Lincoln sings his song A Joyful Heart with his mother, she is floored when she realizes her son's message to her is written in the song's lyrics, which in her unhappiness, she had refused to acknowledge. Alex surprises them both by joining them in dancing a soulful ballet and adds his voice as a trio. Lincoln silently acknowledges the bond he now has with Alex, and Alex joins the hands of Mother and Son so they can dance together while Alex orbits them like a little planet. When the song concludes, Charley tips his hat to the trio and slips out unseen to begin his new life.
Oliver confronts them afterwords to take Lincoln back to NYC, but Margery convinces him to let Lincoln choose. Oliver tries to lure his son back with his dream of being on Broadway. Feeling understood by his mother now, Lincoln sings a final reprise of In the Dark as he turns down his father's offer of stardom to stay in relative obscurity with her and his new friend after realizing his absolute joy is in those he cares for. After Oliver leaves, Margery questions Heloise as to her true identity, learning the truth about the tent.
Alex decides he has to risk it all and tells Margery his truth. Margery realizes the shadow she saw was of her transgender childhood girlfriend who died tragically and says she accepts Alex for who he is and vows to do what she was unable to do as a child, to protect and be the family Alex needs along with Lincoln. At first, Alex is skeptical of the offer, but Lincoln sings Alex's verse of hope from the song Broken back to him and says, "Your home, brother." after which Alex finally lets his defenses go along with all the emotions he has been bottling up. Symbolically, the walls of the tent drop to reveal that the entire theater becomes a star-filled universe, the everpresent moon becoming a sun. George gives a Shakespearian-like epilogue to the audience before vanishing in a swirl of stars that fills the whole theater as the voice of Astrolabe speaks to the audience. The cast reprises Time to Make Time and hoists Alex up above them, where he cries out in a broken voice, echoing his opening line.
"We Are Astrolabe!"